Our Products
Arway has grown from a single product (remember what it is?) to producing hundreds of different items. Our current capacities include Panning, Enrobing, Open-Fire Copper Kettle Cooking, Oil Roasting, and Custom Mixing. Arway is continuously expanding its list of stock products.
Have a question? Need a sample? Request a price?
Give us a call or send us an email. We are always at your service!
Arway Confection's 2017 Wholesale Catalog 
2017 Spring & Summer Bulk & Everyday (pdf)
Arway Confection's 2017 Virtual Wholesale Catalog
2017 Spring & Summer Bulk & Everday Catalog (virtual)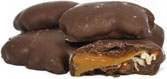 The Chocolate Pecan Caramel Patties – (Arway's first product)